CBD LIVE RESIN SOFTGELS FOR SLEEP
Our CBD Live Resin Knockout softgels are formulated to help with sleep and contain a combination of CBD Live Resin, CBN and melatonin. CBD used for sleep is not itself sedating but can help the mind and body to relax which often impedes finding a restful state. CBN has been found in non-human trials to aid in that as well. We add melatonin to further the sedative effect. To learn more about what CBD Live Resin and CBN are and can do, read more below. Our Knockout softgels also contain MCT oil as fats have been shown to help potentiate these compounds in the body.
Softgels are an easy-to-use portable form factor perfect for discreet travel. They also allow for consistent, and easy dosing. They are ideal for those who don't like to taste the plant like you would with a tincture or edible CBD product. Consumed products like softgels, last longer in the system compared to inhaled products; typically 4-6 hours versus 2-4 hours. This makes them ideal for situations where you need a longer duration of effects such as overnight. Another benefit to the longer-lasting effect is that you'll consume them less frequently making them more cost-effective per dose.
This product is not psychotropic and contains an undetectable amount of Delta 9 THC and Delta 8 and is legal to ship to all 50 states.
Each person has differing factors contributing to and/or causing their sleep-related issues as well as different system deficiencies which impact how the product will work for their needs. We formulate our products to be as effective as possible for the most common factors and gather feedback before launch to make sure we did a good job. Feedback for the Knockout softgels has been that they have helped those who took them to sleep better.
This included a better quality of sleep and feeling more restored. We offer product guarantee's with an exchange or refund if you aren't satisfied, so you can try them for yourself.
SIMILAR BUT DIFFERENT PRODUCTS
If you are looking for a psychotropic version of this product try our Delta 8 CBD Live Resin Knockout Softgels. Coming soon, we are launching a day version of this product called "Daytrip" formulated for helping with stress, focus, and having a better mood. There will be CBD and Delta 8 versions of the Daytrip, both will contain CBD Live Resin, CBDa, CBDv, and CBG to target the effects.
We also recommend considering a Knockout Disposable Vape or Knockout Vape Cartridge with the softgels for times when you need the effect to kick in faster. Inhaled products like disposables and vape cartridges have near-instant effects versus consumables like softgels which take approx 30-45 minutes.
PRODUCT DETAILS
PSYCHOACTIVITY: This product is psychoactive and should not be taken while driving
USE: CBD for sleep & relaxing
SUGGESTED DOSE: 1 softgel
ONSET: 30 min-90 min
PEAK EFFECTS: after 2-3 hours
DURATION: 4-6 hours
ACTIVES: 25mg D8, 10mg CBDa from Live Resin, 5mg CBN, 5mg Melatonin
Δ9 THC: >.3%
INGREDIENTS: Delta 8, CBD Live Resin, CBN, Melatonin, MCT Oil, Gelatin
COA: Packaging has a QR code for COA
TESTING: Batch tested for safety & potency
WHY OUR CBD FOR SLEEP
Superior ingredients
Formulated for efficacy
Regular testing
Most softgels are formulated with CBD distillate or isolate. CBD distillate is made from dried-out plant material that contains a mixture of plant leaves and flower. Isolate contains CBD only and no other beneficial plant compounds. The CBD Live Resin we use is made from curated cultivars with unique cannabinoid and terpene profiles. CBD Live Resin is extracted from frozen flower material that is never dried which preserves the plant's beneficial compounds and makes more therapeutic products.
We care about our formulations. When we came to the industry and found businesses making and selling products they didn't know anything about with inferior versions of the active compounds, and formulations that contained minimal ingredients instead of compounded formulations to increase efficacy; we knew we needed to come to the space. Our products are formulated by a chemical engineer and product developer with experience in the cannabis and hemp industry to ensure we make effective products for those we serve.
We look for the best versions of the active compounds and consider the amount needed of each for them to be effective. We compound formulate to potentiate achieving the targeted effects.
Most important is product safety. Some ingredients can be dangerous and need to be tested for safety to ensure there aren't contaminants including heavy metals, solvents, and pesticides. This requires full panel testing and ensuring all potentially unsafe compounds that could be present are tested for by the lab, as many aren't. This is something we take serious and do for all of our products. Regular testing with accredited labs also ensures correct potency analysis which means more reliable and accurate dosing when consuming the product.
OUR GUARANTEE
We stand behind the products we sell and want to eliminate the concern of buying something and not being satisfied with the purchase. We know we're doing special things.
If you try one of our products and it doesn't meet your expectations, you can exchange it or if a refund is preferred, one will be issued at our discretion (to avoid policy abuse we reserve the right to refuse returns although we rarely have them or say no when we do).
Unopened undamaged products can always be returned & refunded within the return window. You can read more about our return policies on the policies page located on our site menu.
HOW TO USE THIS PRODUCT
Softgels are pretty straightforward. We recommend taking them with a liquid (choking on a softgel isn't fun).
If you skipped the text above but somehow read this text, it's important to know that peak effects for edibles occur 2-3 hours after consumption. For the best outcome always consider that when deciding when to take them. As these softgels are formulated with CBD for sleep, we recommend 2-3 hours before bed.
Also consider that they stay in your system for 4-6 hours and don't take them within 6 hours of when you need to be awake or functional.
STORAGE
Keep the product away from heat, and light
WHAT IS CBD LIVE RESIN
To understand what CBD Live Resin is it's important to know what it's not. The industry standards are CBD distillate and isolate. This typically begins with a tractor going through the field and cutting down legacy cultivar hemp plants (flower, leaves & stem) which are then brought back to be dried. After drying the material, it is then extracted with ethanol or C02 (there are a few other less common methods as well). After the first stage of extraction, a processor ends up with crude oil which is then "distilled" into "distillate".
To make isolate the distillate is refined further to "isolate" the target cannabinoid (most commonly CBD but you can make isolate out of other cannabinoids including CBG).
Our CBD Live Resin starts with thoughtfully selected CBD flower cultivars that are harvested by hand to minimize rough handling which can damage the plant's trichomes and cause a loss of cannabinoids and other beneficial plant compounds. We then remove any leaves still present on the flower colas to get the best taste in the final extract and concentrate the flower material which is the richest with cannabinoids and terpenes. Next, the flower is immediately frozen. Freezing the flower helps minimize the loss of delicate aroma and flavor compounds that volatilize from heat or temperature swing exposure.
The frozen flower material is then BHO extracted producing strain-specific CBD Live Resin. Strain-specific means there is only one cultivar used to make the final extract which helps maintain the integrity of the plant's original chemical composition.
We believe the best practice is to stay as holistic to the plant as possible especially when you've curated unique cultivars for their genetic expressions.

WHAT IS CBN
CBN is an abbreviation of Cannabinol and it comes from the oxidation and decomposition of THC in hemp plants. This means that THC which is heated and exposed to Co2 (oxygen), converts to CBN. The compound has a mild psychoactive response, slightly more so than CBD but much less than THC. CBN is a cannabinoid produced exclusively by the cannabis plant, and it can not be found in any other plant species. Its psychoactivity is low, which for many medicinal users represents a great advantage, and it is believed to be the cause of the sedative and narcotic effect of some varieties of cannabis, in addition to being a partial agonist of the CB1 and CB2 receptors, being somewhat more linked with the CB2 receptor (inhibits adenylate cyclase).
It is a molecule that is readily dissolved in fats or the various solvents used in extractions, being hydrophobic (water repellent) and lipophilic (having affinity for lipids).
Research has found the pharmacokinetics of CBN and the CB1 receptor are much less than what THC is. CBN has been shown to prolong the sleep time in a study with barbiturate-induced mice; although human trials are still needed to prove its use for this effect. It's believed that CBN and CBD, either individually or combined, potentially help alleviate insomnia by causing an overall sense of mind and body tranquility and relaxation which can impede sleep and relaxation.
Here are some headier details:
Name: Cannabinol
Formula: C21H26O2
IUPAC name: 6,6,9-trimethyl-3-pentylbenzo [c] chromen-1-ol
Molecular mass: 310.4319 g / mol
Melting point: 77 ° C
Boiling point: 185 ° C
Presence at room temperature: Solid, crystalline and colorless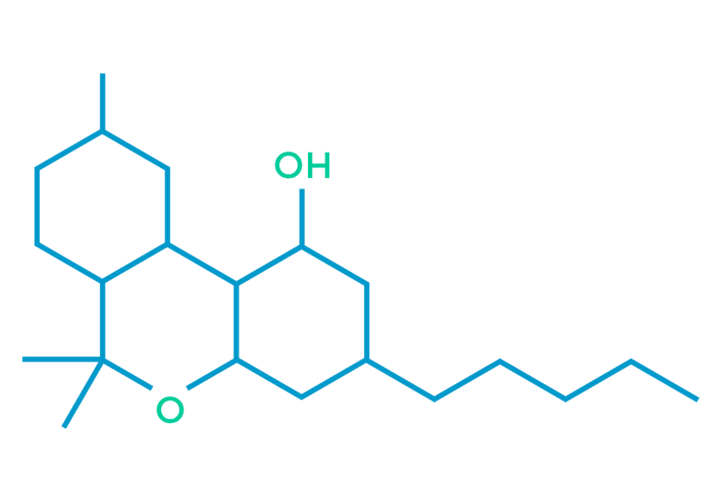 CBD FOR SLEEP